Tire 🛞 mod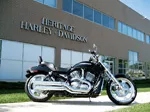 1. The volunteer motorcycle: a 2004 Harley V-Rod VRSCB. 2. Here is the new rubber: Metzeler's ME880s in 120/70 ZR19 front (same as stock) and 200/50 ZR18 rear (stock is 180/55 R18). According to Metzeler, their tires feature an advanced Silica compound, which reduces rolling resistance...

hotbike.com
Free manuals to work on bike
Harley Davidson service manuals for download, free!
Ronnie's parts finder also gives exact details of everything need to fix plus order from Harley-Davidson dealership straight to house and he has most major parts needed no run arounds ether
Ronnie's Harley-Davidson® offers service and parts, and proudly serves the areas of New Ashford, Windsor, Lenox and New Lebanon.
partsfinder.onlinemicrofiche.com