** Both Seats Sold **
Hello all!
Selling some stuff from the garage not being used. I will be adding more as i go through it. First thing up for grabs is my stock seat and pillion, and a full Sundowner setup including sissy bar and matching pad. I pulled the Sundowner info straight from the HD site so you would have the part numbers and all. Both are in great condition. I will get pics up when i get hom from work.
Sundowner:
=============
Seat and pillion:
53432-02
Fits '02-'06 VRSCA, VRSCB and VRSCD models. Also fits '05-'06 VRSCSE models. Requires use of Fender Base Plate or One-Piece Luggage Rack (sold separately). Seat width 15.5"; pillion width 12.0".
MSRP US $269.95
Link to the HD Site
--------------------
Chrome Low Sissy Bar Upright:
51126-01A
Fits '02-'06 VRSCA, VRSCB, VRSCD and '05 VRSCSE models. Requires separate purchase of Fender Base Plate P/N 51120-01A or 51140-04A.
MSRP US $59.95
Link to the HD Site
--------------------
Touring Passenger Backrest Pad:
51569-01
Fits '02-'06 VRSCA, VRSCB and VRSCD models equipped with Low Sissy Bar Upright P/N 51126-01A or 51145-04A.
MSRP US $79.95
Link to HD Site
So my price for the Sundowner setup:
$210 + Shipping
<><><><><><><><><><><><><><><><><><><><><><><><><><>
Stock seat and pillion:
===================
(can't find the part numbers so i just pulled the cheapest seat price from Ebay for just the solo seat which means the pillion is free!)
$60 + Shipping
Again... i know the rules... I will update this thread with pics when i get home.
More to come as i go through stuff that hasn't been on in forever.
**Picture Update**
Stock Seat: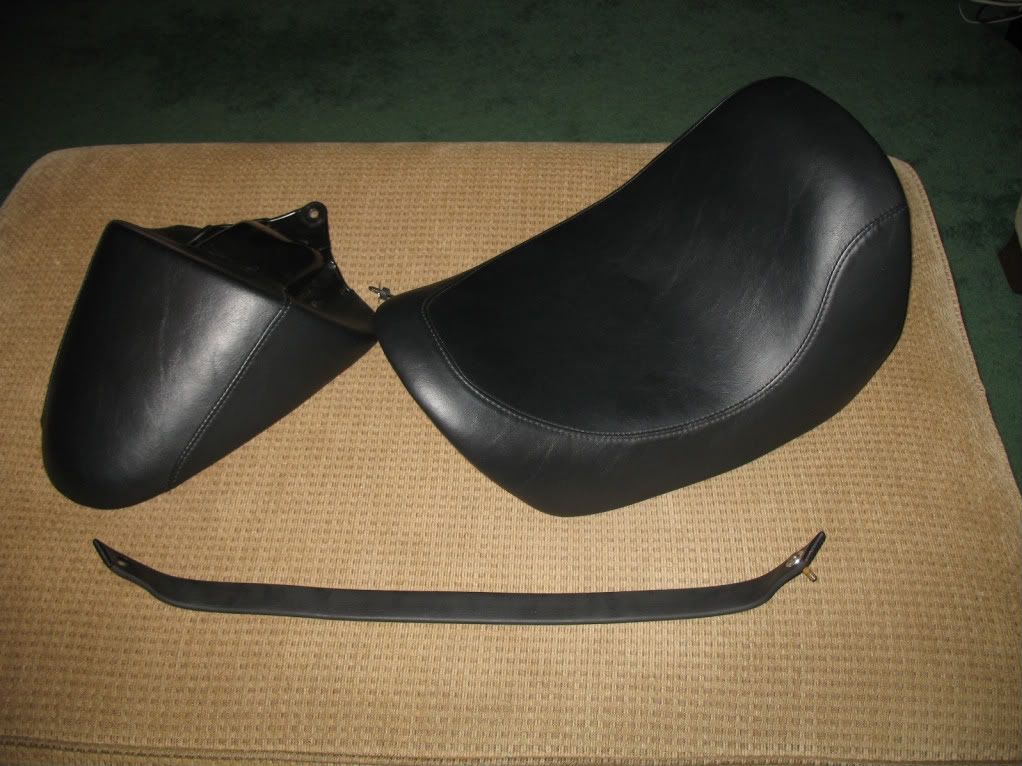 Sundowner Seat and Sissy Bar and Backrest: