Discussion Starter
·
#1
·
SYN3 OIL
:deal
r is it SIN3
Material Safety Data Sheet (MSDS) on the SYN-3.
manufactured by Citgo Petroleum
.
Composition section:
Component
CAS #
Concentration
(1) 1-Decene Homopolymer, hydrogenated
68037-01-4
50% - 70%
(2) Proprietary Ingredients
Proprietary Mixture
1% - 10%
(3) Polyisobutylene
9003-27-4
1% - 10%
(4) Distillates, Petroleum, Hydrotreated Heavy Paraffinic
64742-54-7
0% - 20%
(5) Distillates, Petroleum, Solvent-Refined Heavy Paraffinic
64741-88-4
0% - 20%
(6) Zinc Alkyldithiophosphate
68649-42-3
0% - 2%
Item (1) is a Group IV base oil. unable to locate the manufacturer of this base oil. Group IV and V base oils are the only "true" synthetics to the cognoscenti.
Item (2) is probably their additive package (boron, calcium, magnesium, phosphorous, moly), but it is conceivable there could also be some "secret" synthetic oil, maybe an ester type oil, included in it.
Item (3) is a fancy name for synthetic rubber (or elastomer) but this is probably considered to be "synthetic" oil as well.
However, Item (4) is a Group II base oil, namely Conoco Pure Performance Base Oil, either 110N, 225N or 600N. no one is calling a Group II oil a synthetic.
No information on the group number of Item (5) but it is Conoco's Cit-Con 650N Base Oil. presume that it is a Group I oil as it is solvent refined. most quality blenders are not using Group I oils in their premium motor oils and they are not considered synthetics.
(the MSDS for the HD 360 20w50 oil. The major base oil constituents in it are the same ones as are listed in Items (4) & (5) above.)
I think the Items (4) & (5) above, are to keep the old air-heads running without bearing skid and gasket leaks. Good for them, but not for us?
Harley-Davidson talks about SYN3 in their advertising as:
quote: Developed with a proprietary blend of three synthetic basestocks, ...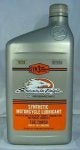 Or not!?!
If there are significant amounts of Group I and II oils in the SYN3, could the MoCo have stretched the definition of "synthetic" a bit further than Castrol did when changing Syntec from a PAO Group IV base to a hydrocracked Group III base?
Exxon/Mobil (Mobil 1 synthetic) lost a lawsuit trying to go after a few oil companies for advertising blends as full synthetic. Mobil lost, and now the oil companies do not have to disclose on the label it contains Group I, II or III base stocks which are all petroleum based.
So it is legal for Harley to market syn3 as a full synthetic, even though it is only 60% synthetic and the rest petroleum based.
If you want fully synthetic. Buy Mobil 1, RedLine or Amsoil, although Amsoil always seamed a little to snake oil to me. I'm going with Mobil 1, or RedLine for sure now!
:soapbox:
Have you all seen this stuff on the net yet?????
Is SYN3 a SIN????????