Discussion Starter
·
#1
·
Back when Rod (RSC), Craig (Redracer95) and Jason (???) did my valve lash check....
http://www.1130cc.com/forums/showthread.php?t=145419
...
I started to disconnect my oil pressure gauge tube from the O/P transmitter adapter. I had loosened it about 1/2 a turn when Rod pointed out that it would be easier to remove it from the gauge instead and be a whole lot easier. so I did.
We finish the work and our test run appeared to be fine.....move ahead to last week. Bike is home up on the jack and I decided to run it and warm it up for a while. While it's idling I'm working on my truck, when I finished I shut the bike down and found about a 1/2 cup of oil on the right side of the engine and dripping on the floor.
I knew what the problem was so I dropped the horn out of the way and tightened up the fitting. Then using a skinny long shafted screwdriver and a rag I tried to clean up the oil from between the jugs. I guess in the process I hit the aluminum tubing that feeds oil to the gauge and fractured it. The next time I ran the bike....yesterday I had about 1/2 a quart of oil squirting all over the place. So, again drop the horn and sure enough, completely busted tube.
I went over to Advance Auto Parts and got a Oil Pressure gauge installation kit ($5.99) with polypropylene (sp?) tubing. I installed this stuff, bled air out of the line, and cleaned everything again, ran the bike up to operating temps and checked, double checked and triple checked. No leaks.
In summary.....If you run these gauges.....I recommend using the plastic tubing.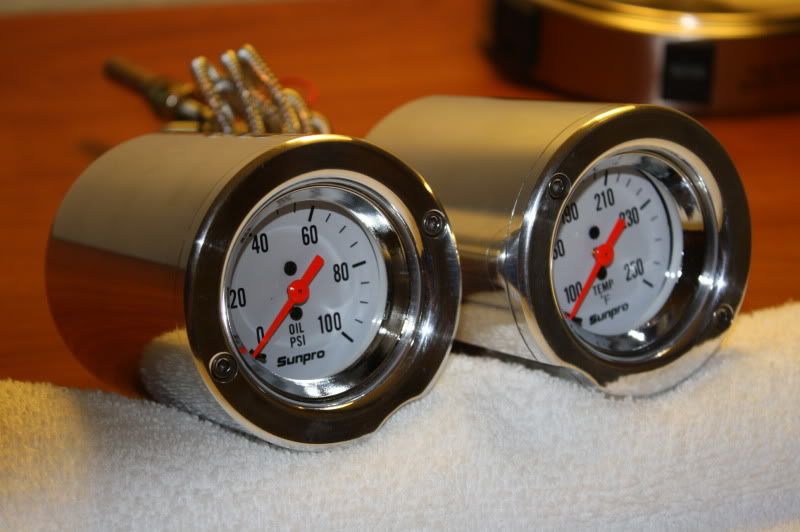 Steve