Discussion Starter
•
#1
•
Okay guys Ive been fart arsing about with the bike for the last two weeks and decided to drop the engine to get some work done and then have it painted and blacked out. As you may have already read in my previous thread I wanted to do a lot more work when I fitted my BST Wheels but ran out of time and had to get it back together because I had a 2500 km ride over to the Great Ocean Road to get too. Well once i had the engine out I decided F**K it Im going to do what I should have done in the first place and completely strip the bike down to a bare frame modify what i want, customise this baby and build it how it should have been built in the first place.
So I have a gazillion pieces at the moment and a mega build under way. After getting the frame off the engine I decided that I really would like to have this bike looking better than when it came out of the showroom. Hence I sent the frame off to the painters and had her covered in jet ice black which is a deeper and glossier colour than the factory but IMHO looks a hell of a lot better. So now the re-asembly begins. Here's some pics of the frame of the bench and this thread will chronicle my changes along the way as I put it back together.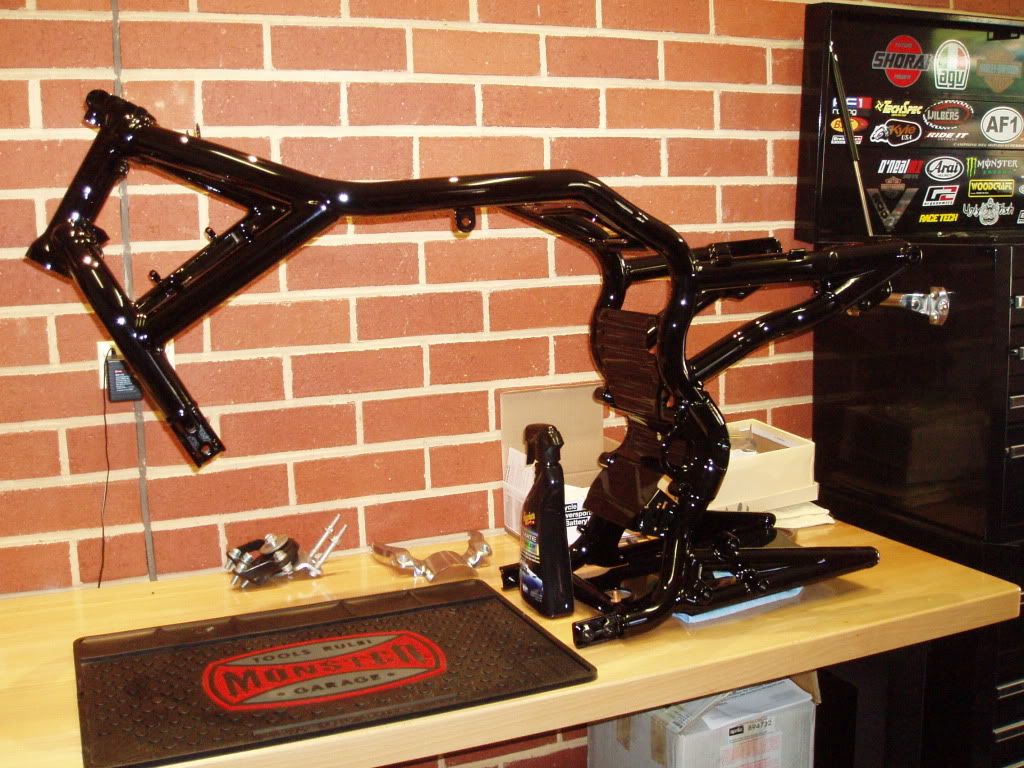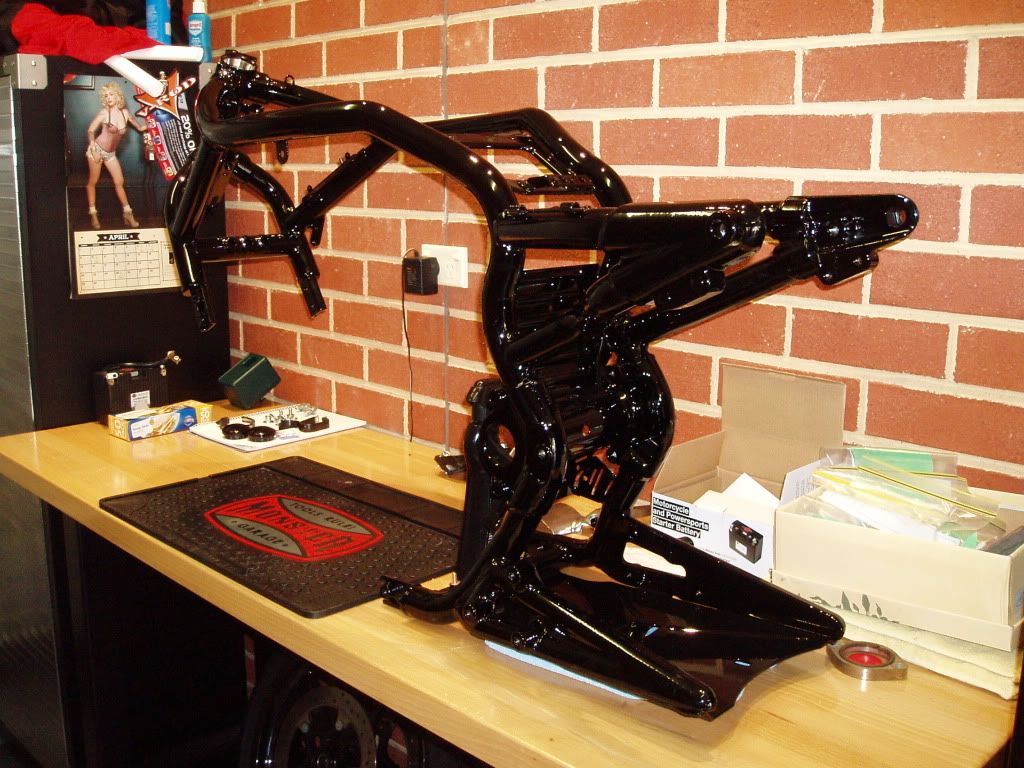 Obviously the couple of coats of clear make a big difference but the black is deeper and darker which I like.
Whilst I picked up my frame today I dropped off my triple trees and forks to have them blacked out and matched to the frame colour as will the swing arm later. I'm only painting the fork bottom so I still have a bit of contrast but the rest of the bike will be blacked out.
You will notice that the lower frame rails are missing but there is a story to that they are being modified. Im going an OEM and Performance Machine hybrid mid control set up which Ill explain as I go. What I have done is chopped off the frame boss mounts for the forward controls and the POS OEM stand. Im fitting a custom low profile stand more towards the centre of the bike which is slim line with a hidden internal spring arrangement which will hold the bike better and look a hell of a lot cleaner. This was about 2 kilos of stand and control mounts taken off the lower rails. This deletes the issues that people have with the bushing in the OEM stand needing attention and upon inspection and dissasembly of mine I identified it was already developing slop in it.
Without going into full details now Im intending on going to custom bars, risers and a Vance and Hines race dash as well as a number of other things including custom paint, bitchin seat and lyndall rotors.....
More pictures to follow......:dance: