Discussion Starter
·
#1
·
*Ronnie's parts finder also gives exact details of everything need to fix plus order from Harley-Davidson dealership straight to house and he has most major parts needed no run arounds ether
Ronnie's Harley-Davidson® offers service and parts, and proudly serves the areas of New Ashford, Windsor, Lenox and New Lebanon.
partsfinder.onlinemicrofiche.com
*Free manuals to work on any make of bike 🏍 he's been updating it also
Harley motorcycle workshop service manuals to download for free!
*Tire 🛞 mod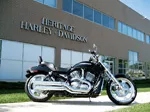 1. The volunteer motorcycle: a 2004 Harley V-Rod VRSCB. 2. Here is the new rubber: Metzeler's ME880s in 120/70 ZR19 front (same as stock) and 200/50 ZR18 rear (stock is 180/55 R18). According to Metzeler, their tires feature an advanced Silica compound, which reduces rolling resistance...

hotbike.com