It must have been an overseas model or someone swapped out the 28T sprocket that was put on at the factory.

Based on the marking shown in your picture, I'd say it's an early model (P/N 40341-01) sprocket also. The later model 30T (P/N 40341-04) sprocket was stamped with smaller size characters spaced closer as shown in this picture:
Can someone please verify these are the correct pictures with the correct part numbers? Asking because what I see with my eyes look correct.
I have a 2006 Domestic VRSCR with 28T. I want to switch to 30T so I would need 40341-04 which has 30T stamped with smaller and closer together.
Whats driving me crazy is the pulleys I see listed on Ebay the pictures and part number and model years are mixed up. see link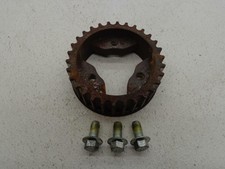 Find great deals for 2002 2003 Harley Davidson V-Rod VRod FRONT SPROCKET PULLEY 30 TOOTH 40341-01. Shop with confidence on eBay!
Thank for reply in advance