Jan,
Sorry for the slow reply. I don't get in here as often as before.
The Bank Angle Sensor is not mechanical. It's a solid state integrated circuit. It's a small electronic accelerometer chip. It senses acceleration (jiggling side to side) or gravity (leaning the bike over). When the TSSM is mounted in the stock orientation it can only sense sideways jiggling or leaning. Forward acceleration or breaking, or up/down bumps can't affect it unless the TSSM is mounted incorrectly. I could imagine if your motor had a lot of sideways vibration it could trigger the sensor. Or if the TSSM was not mounted solid and it was jiggling around, that could trigger it. Or if you install a sidecar and make a really hard corner (without the bike leaning over because you have a sidecar attached), that too could cause it to trigger because of the sideways G forces. That's the one that affected me.
The TSSM has a "sidecar mode" which can be set ON with a scanalyzer, or following the nutty instructions in the electrical manual, I think using your blinker switches or something line that. Anyway, in "sidecar mode", the sensor trigger point is changed so it takes more jiggling or leaning to trigger it. That works fine for normal street sidecars, but for extreme sidecar cornering it isn't enough. If it is indeed this sensor that's causing your problem (possibly due to vibration), then setting sidecar mode ON might solve your problem.
For me, setting sidecar mode ON wasn't enough, so I had to find another solution. As Max said, once the engine is running, you can unplug the TSSM and it will continue running fine. For me that "fix" wasn't good because if I stall the motor in a race, it takes too long to shut off ignition, plug it in, start it, and unplug it again. And I think when you do that, you have to wait 10 seconds for it to work again. SO . . . I had to find yet another solution. So, I tore apart the TSSM, figured out how the sensor worked, and designed a simple circuit that would bypass it. Once you get the TSSM apart (not such an easy thing), it's a fairly easy fix. I cut one pin on the sensor chip, solder on two resistors, and put the TSSM circuit board back in the plastic housing. This bypass circuit makes the TSSM think itís always level, and never jiggled. It also disables your alarm and one of the turn signal auto-off functions, which may or may not be a problem for you. Hereís what the mod looks like: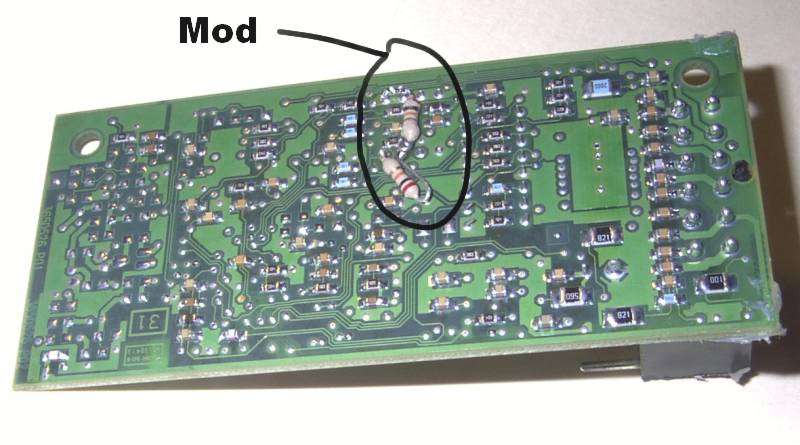 Keep in mind if you do something like this, your motor wonít shut off if your bike tips over (or crashes). The fuel pump could keep running, which due to crash damage could pump gas out onto hot exhaust and cause a fire. So, this mod can be very dangerous.
All that being said, from your description Iím not sure this is your problem. If you motor cuts out, but then starts running again two seconds later, then it canít be your TSSM. If the TSSM cuts your motor off due to the Bank Angle Sensor triggering, you canít start it again without shutting off your ignition switch and turning it back on (possibly with a 10 second wait also). If your motor only cuts out for a second or two, itís some other problem
Hope that helps!