I entered my 06D at the Fort Huachuca AZ Custom bike show. Sponsored event from AAFES for Military families and Soldiers. Unfortunately, I didn't win but it was fun for my kids.
One gripe, it was supposed to be a custom bike show and not "dealer accessories bike show". Im not bragging on the custom items that i modified, designed, made, etc. but i honestly think its way better than a leather pouch mod, or a customized license plate, or expensive seat that some other dude installed it for you. A couple of Victory baggers won.
All that matters; we had fun with great Americans, awesome food, and showed our passion in motorcycles.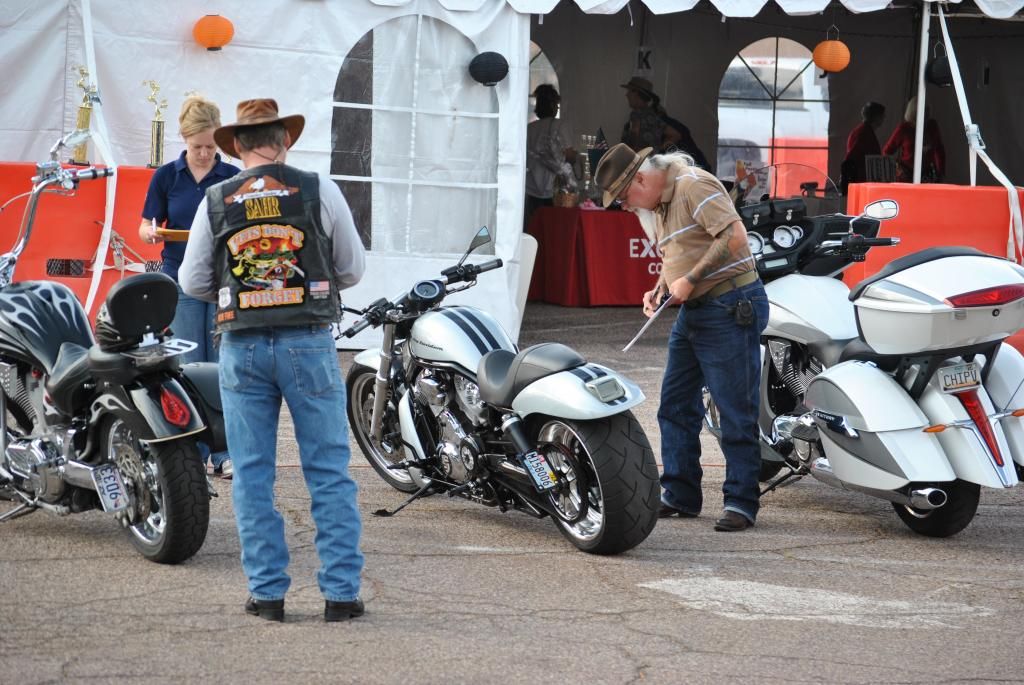 2006 VRSCD V-ROD MODIFICATIONS and UPGRADES
Bodywork:
• Changed stock red/vivid black tins to 2010 Silver with black ghost flames (wide rear fender)
• VRSCA headlight conversion
• VRSCA reduced reach seat and pillion
• Dog-ass delete
Powertrain:
• Screamin Eagle complete head package (ported head, cams, injectors, etc)
• Screamin Eagle Racing Tuner (117 RWHP)
• CFR exhaust with VMOD baffle
• 26T sprocket by Fitzgerald Motorsport
• RSD Judge rear pulley (narrowed) by Fitzgerald Motorsport
• Screamin Eagle skinny belt
Suspension:
• Progressive lowering springs 1" (FRONT)
• 11.75" shortened rear shocks with Rizoma shock covers
• Passenger pegs delete
• Dual shift controls (Front and Mid)
• Custom front sprocket cover "RSD Judge look"
Wheels:
• Custom cut FRT stock wheel (contrast –cut style) by Gorby's Machine
• Custom cut RR solid wheel (contrast –cut style) by Gorby's Machine
• 260 wide tire conversion (stock swingarm)
Creature comforts:
• Oberon Airo brake/clutch adjustable levers
• Rizoma handle bars V2
• Rizoma Tomok mirrors
• Rizoma foot pegs
Electronics:
• Integrated LED taillights
• Side license bracket with LED
• Rizoma front turn signals
• Rizoma front signal brackets
LINKS:
http://www.1130cc.com/forums/showthread.php?t=159204
http://www.1130cc.com/forums/showthread.php?t=164263
BEFORE